Like many of us, Airbnb is not having a good year.
Earlier this May, the company laid off nearly 2,000 employees, or approximately 25% of its workforce.
In an attempt to save an additional $800 million this year, Airbnb also gave its top executives a 50% pay cut and suspended its marketing activity.
Plans for an upcoming IPO — which was set to happen later this year — might also be cut short. 
Demand for Airbnb properties has collapsed during the Covid-19 crisis
Kevin B., who asked that his last name be withheld citing privacy concerns, has been renting out his house in San Francisco while living in his girlfriend's home. The plan was to use the free space to make a bit of extra money for travelling.
But as planes were grounded, restaurants closed and people cancelled travel plans, Airbnb listings started seeing less action. Kevin has put his listing on snooze for the rest of the year and is now thinking about advertising his house for longer-term renting on other platforms such as Zillow or Craigslist.
"Airbnb was great for short-term renters. But now they're pushing for longer-term and if I want someone to rent my home permanently, why would I go to Airbnb and give them a cut?", he asks.
He's not the only one wondering. Demand for short-term Airbnb rentals has practically vanished over the past few months, with some hosts calling it the "Airbnb apocalypse".
While Airbnb doesn't publicly release the number of bookings it records on the platform, third-party sources such as Inside Airbnb give us a glimpse into how the short-term rental giant has been fairing.
The data shows that the number of reviews left on the platform each day in some of the world's biggest cities has been slowly approaching zero since the start of the outbreak.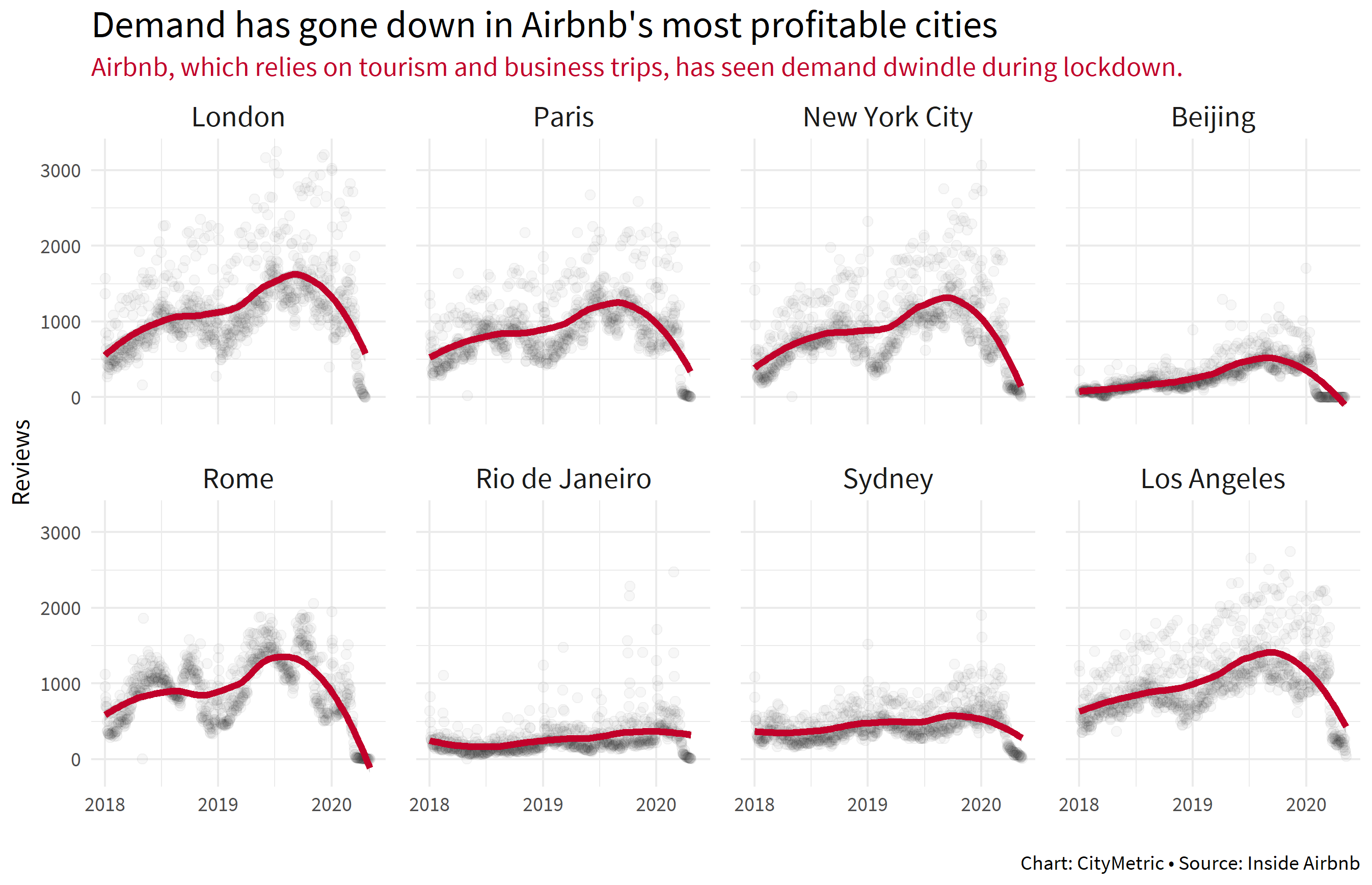 While there is usually a drop in the number of reviews left on Airbnb a few days after New Year's Eve, this year was different.
The numbers started dropping sharply in places such as London, Paris and New York around the end of February and have continued falling since. Other cities, such as Rio de Janeiro and Sydney, saw similar changes but at a smaller level. While some cities are already coming out of lockdown, Rio is yet to enter one while landlords in Sydney were allowed to advertise "isolation holidays" undisturbed.
Other governments and local authorities have taken much stricter actions designed to restrict the number of people staying in holiday rentals.
In the US, short-term rentals were or are temporarily banned across several states such as Florida, Pennsylvania, Georgia, Delaware, Maine and Vermont as well as several cities. Airbnb bookings in the UK have been restricted to key workers.*
Officials are also using the coronavirus pandemic as an occasion to expand their regulatory control over Airbnb and other similar platforms.
For example, new laws in the Czech Republic ask landlords who want to list their houses or flats on Airbnb to inform the government about how often the property is rented, how much has been paid for it as well as declare what platforms the property is listed on.
Prague - which normally sees more than eight million tourists a year - is among many European capitals where a lack of affordable housing is an increasingly bigger problem.
Authorities are now hoping that regulating websites such as Airbnb may mitigate the effects of over-tourism and create more living spaces for people who actually plan on living in Prague.
---
Airbnb's meteoric rise
Airbnb started in 2007 in San Francisco, when co-founders Brian Chesky and Joe Gebbia thought they would put an air mattress in their living room and turn it into a cheap bed and breakfast.
That turned into a startup with a simple philosophy: allow people to occasionally rent out their spare rooms in exchange for a bit of cash and some companionship.
Things couldn't be more different today. As of April 2020, 56% of the London listings on the website are for entire homes, rather than just spare rooms. While an Airbnb spokesperson says that some of those listings are from resident hosts who only list their properties when they are out of town, there's no way to determine what percentage of the listings might fall into that category. Nearly 50,000 entire houses and flats are currently listed in London.
The sheer scale of the short-term and holiday let market has raised concerns over the impact on urban communities around the world.
Officials and activists argue that the rise of Airbnb and similar sites has caused increases in rent prices and housing shortages, and have called for stronger regulation.
But Airbnb's pockets run deep. The company spent at least $600,000 on lobbying in the US last year while still maintaining the image of a grassroots operation that is part of the sharing economy.
A lack of regulation and lower overhead costs allowed Airbnb to grow at meteoric rates. Valuations before the coronavirus outbreak placed the company's worth at over $30 billion.
However, a closer look at the data suggests the number of properties on the website was stagnating even before the pandemic - whether through market saturation, or new regulation, or a combination of both.
Some hosts are abandoning the platform
The graphs above suggest that, pre-Covid-19, Airbnb had seen healthy — and consistent — quarter-on-quarter growth in demand in major cities until the start of this year. That's true; but the picture looks slightly different when we count the number of properties being listed.
Here the graphs look much flatter, with several cities seeing drops that pre-date the pandemic.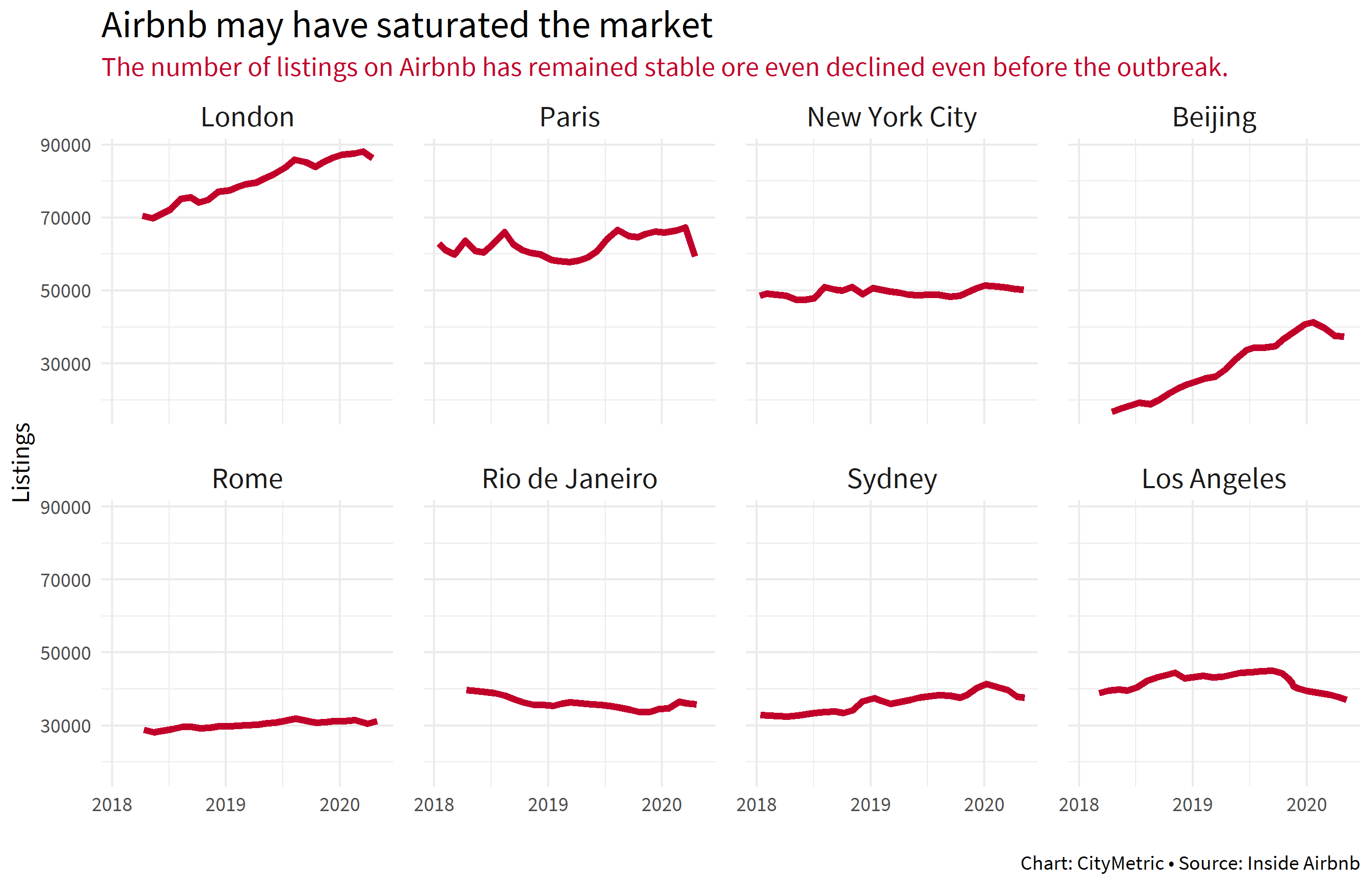 The number of properties available for short-term rent in Los Angeles has fallen back to what it was in 2017, according to Inside Airbnb's data, with the sharpest decline starting around September last year, well before the first Covid-19 cases. Also according to Inside Airbnb, Rio and Rome both started 2020 with fewer Airbnb rentals than when they started 2019. Rio's numbers have actually been gradually falling since at least April 2008, when Inside Airbnb started collecting data for the city.
A spokesperson for Airbnb disputes some of these findings and says that overall rental listings on the platform has not actually declined. "There are more listings on Airbnb today than on 1 January 2020, with more than 90% of hosts saying they plan to host at least as often after the pandemic," says company spokesperson Metin Parlak. "The majority of hosts on Airbnb share their own home and half say the additional income helps them afford their home. Our platform helps spread tourism benefits beyond tourist hotspots to local families and communities, generating and estimated direct economic impact of $117 billion in economic activity in our top 30 countries in 2019."
Airbnb is not the only site seeing listings vanish. StreetEasy, a real estate classifieds website in New York, reported 46% fewer listings in April this year compared to last year, although the decline started even before the outbreak.
At the same time, the share of short-term and furnished flats available to rent on StreetEasy has increased since the start of the Covid-19 outbreak. This can partially be explained by the local rental market adjusting to increased demand from medical personnel coming to New York to fight the virus and college students who had to leave their dorms and needed alternative, flexible accommodation.
Another part of the reason could also be that properties are moving from Airbnb to StreetEasy.
Los Angeles, on the other hand, saw an increase in the number of houses on the rental market. Real estate classifieds platform Zillow saw a slight uptick of 7% even as authorities ordered a state-wide stay-at-home order.
As some Twitter users observed, at least some of these newly listed properties were previously active on Airbnb. Like Kevin in San Francisco, some landlords are taking their properties off Airbnb and transforming them into longer-term rentals or selling them. That might be bad news for holiday letters, but good news for residents seeking more affordable longer-term rents.
Airbnb is betting on long-term stays as well. About half of the site's listings now offer discounts for longer-term stays and the company is launching new tools to help hosts transition to the new model.
But whether it can convince landlords that the service it provides is worth the service fee it asks for will remain to be seen.
What's next?
While the rental markets are frozen right now, activity is likely to pick back up once lockdowns are eased and people feel comfortable moving again.
However, social distancing rules might stay with us for a long time. This might make tourists and businesspeople wary of spending the night in an unknown stranger's room.
On the other hand, Airbnb has a unique advantage compared to hotels and other traditional accommodation services. The company is not responsible for maintaining rooms or paying staff, which may allow it to bounce back more easily.
To survive in a post-coronavirus world, Airbnb will have to rethink the way it operates and put local communities back at the centre of its business.
*Update May 29: We've updated this story to reflect the fact that some jurisdictions that temporarily halted short-term rentals have since lifted those restrictions. We've also added responses from an Airbnb spokesperson. 
Nicu Calcea is a data reporter at New Statesman Media Group.